Shaolin Kung Fu Academy - Students' Reviews
More than One Thousands Positive Reviews from our students listed below:
Our Shaolin kung fu school in China is the most welcoming martial arts school in the country. Since we opened our Shaolin school in 2004, we have had more than 3500 foreign students (including family groups) from around the world learn kung fu and get their certificates here. [ Click to see video on Words from our students.]
Our students come from the following countries: UK, USA, Australia, Austria, Belgium, Canada, Columbia, Czech, Dubai, Denmark, Cyprus, France, Finland, Germany, Greece, Ireland, India, Italy, Indonesia, Iceland, Korea, Lebanon, Mexico, Spain, Switzerland, Sweden, South Africa, New Zealand, Netherlands, Portugal, Poland, Singapore, Sri Lanka, Russia, Turkey, Panama, Tunisia, Vietnam, Mauritius, Botswana, Tanzania, and more.In addition to that, our students have commented on the high standard of Kung Fu training and comfortable environment and beautiful scenery of the mountain here.u[See video of our surrounding area is incredibly beautiful] .After running for 15 years, we are more dedicated than ever to improving our martial arts academy in China and making it the absolute best place to learn everything from kungfu to the art of Chi. We set our standards high to give students an incredible experience that affords them a unique set of skills unmatched by many. To learn more about the student experience at our school in China, we invite you to read the student reviews below.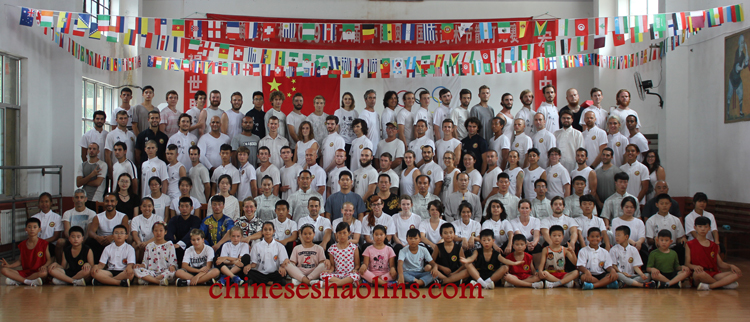 2017 Group Photo including Ten traditional masters and five English Translators.
●On this page you can read kung fu training experiences written by our students with additional photos on each personal page with their email and Facebook. Each student gets a certificate from the school that lists all the things what they learnt.Each year we organized some of students to participate traditional international martial arts competitions and got excellent records.