The students can learn traditional Shaolin Kung Fu and its philosophy here with our masters in the Kunyu Mountains of China, training here can improve health mentally and physically.
Photos of Students Following Masters - Click to Enlarge and Read More:
Shaolin Kung Fu is one of the greatest forms of Chinese martial arts that has gained in popularity in recent years. The movements are rapid, quick, and forceful in Shaolin Kung Fu. This martial art demands energy, rapid and forceful actions. For one, Shaolin Kung Fu has produced great masters in the history of China Kung Fu and boasts a variety of techniques and philosophies that increase the spiritual growth in both young children and adults. In fact, shaolin martial arts also involve training on culture tradition and helps students deepen their knowledge about "the Chinese way." Our shaolin kung fu students love and appreciate learning this wonderful art and taking advantage of all its benefits..

There are five major schools of Shaolin Kung Fu: Song Mountain Shaolin, Fu Jian, Guangdong, Sichuan, and Hu Bei Shaolin. It started with small schools and styles within the Shaolin art. Nowadays, we can say they are northern and southern shaolin. The shaolin is rich and colorful in its contents. Some of the main boxing routines include Dahong Quan (Quan mean Chuan or boxing), Xiaohong chuan, Pao boxing, Luohan quan, zhaoyang quan, tongbei boxing, plum blossom Quan, Long chuan, Steven start Quan, hear-yin quan, Soft Quan, and others lots of kinds of application an combats skills, and some of them are relevant with health keeping kongfu, medicine, and Chikung, etc. that all are very important cultures tradition.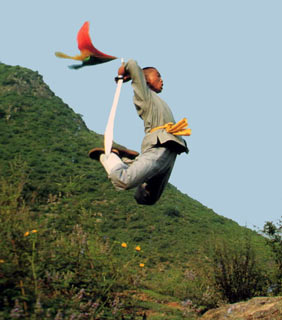 Monk performed shaolin broadsword
Weapons: The shaolin staff is an especially important part in shaolin weaponry. They are Shao Huo Staff, Qi Mei staff, Liu He stick, Yun Yang stick, Pai stick, Monkey staff, Da Mo staff etc.., Spear, 27 famous spear, 33 famous spear, Six-he spear, Yang style spear, Luo style spear, etc., and single Broadsword, Mei Hu Broadsword, Gun Tang, Qian Kun, Seven star sword, tiger head hook, nine-sections whip, etc., and other techniques locking joints, pressing points, soft Chi Gong, Hard Qi Gong, iron sand palm and shaolin 72 techniques.

Some of Shaolin Martial Arts Equipment.Monk performing shaolin Spear.
Shaolin can be traced to around 1500 years ago. The first original shaolin temple was located at the foot of the Song Mountain. Historically, it was established by the Indian monk who had come to spread Buddhism in China. However, the temple was later closed, Later, the shaolin kung fu temple was reopened after two years. Ta Mo, a Buddhist, is believed to have been admitted in the first temple in Northern China. However, during this time, most of the monks used to fall asleep during training. At other times, he would notice that the older monks developed frequent physical problems due to the extensive training and meditation. To alleviate this, he introduced forty-nine postures designed to keep people awake. Some of these were the very first forms used in Shaolin training. There are huge content and forms in shaolin martial arts, some of main ones include: internal Gongfu, external kung fu, hard one, light one, Qi gong, and so on. Internal training is different from light kung fu. The former focuses on practicing the strength of one's body while the latter focuses on the jump - especially Chikung, which helps in maintaining Chi. Shaolin teaches the use of hand-to hand defense, the use of weapons, or a combination of both. Forms used include straight sword, spear, combat, performance sparring among other forms. Once a trainee is trained on one level, they proceed to the next depending on their mastery. It is progressive and trainers put effort to ensure learners get from one level to a more advance level in an appropriate amount of time.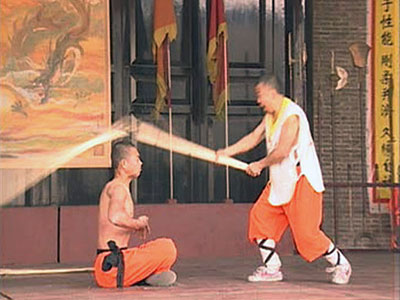 Shaolin monks performing hard Chi kung.
One of the best things the masters of our school do is to make sure our shaolin kung fu students can learn traditional shaolin martial arts with their masters.

Due to this diverse variety, there are lots of techniques of shaolin martial arts, our shaolin monk trains you on the styles that you want to pursue, whether it be drunken boxing or another form of martial art. The monks in school are highly qualified, as they require theory, flexibility, strength and even the ability to endure pain. This is one of martial arts that preaches non-violence and other principles that enhance wellness. The monks will normally undergo intense training (for mind and body) to create resilience and bring out the importance of having mental, spiritual, and physical harmony. In fact, China takes pride in having some of the greatest masters in martial arts. All this is practiced in a shaolin monastery. Age does not determine who can train for shaolin kung fu. However, if you have health problems or previous injury, please let us know so the master can pay attention on it during your training and give you a customized schedule to ensure that it suits your needs.
As you will realize, all forms of techniques in the world are now available in shaolin kung fu. You will find masters who are qualified in teaching them to motivated and open students. Introduction on shaolin kung fu China is not meant to flight somebody; rather, it is designed to promote healing. Simply put, shaolin kung fu is an art that will promote courage, confidence, clarity, and a zest for life. While other martial arts may focus on training that entails hurting an opponent, the spirit of shaolin mainly teaches love and gentleness. Thus, it would be right to say that shaolin kung fu is about love and wisdom. The spiritual aspect has also made it quite popular across many cultures. It transcends ritual religion and thus qualifies as one of the greatest forms of martial arts in existence. Training shaolin art include forms, theory, applications, weapons, Chi kung fu, etc. and it involves other aspects that are also important in attaining higher levels of spirituality

shaolin Kungfu trainning
hand style and technique
palm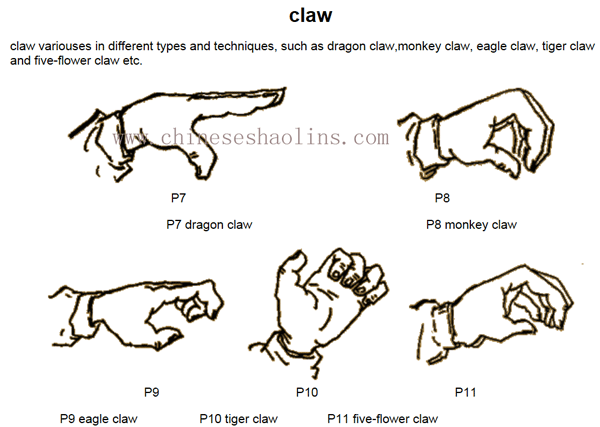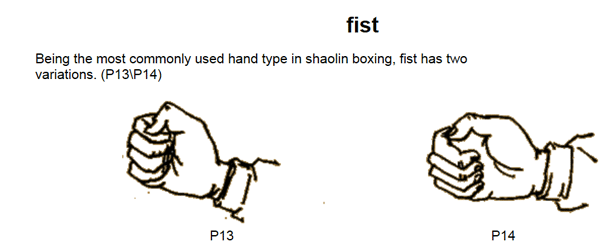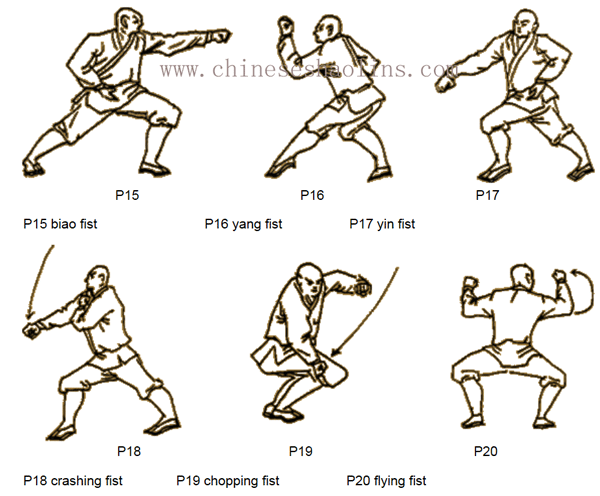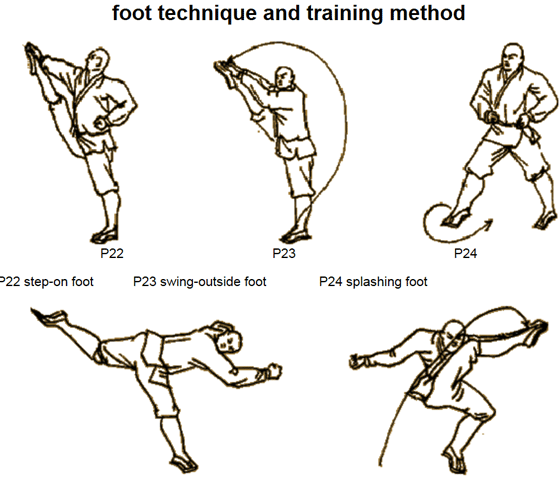 foot Skills
Foot Skills are one of the important basics in shaolin boxing.
Forward Step, Retreat Step, Jump Step, Flying Step, Moving Step, Hopping Step, etc.

Six. Leg skills
Studyof Leg technique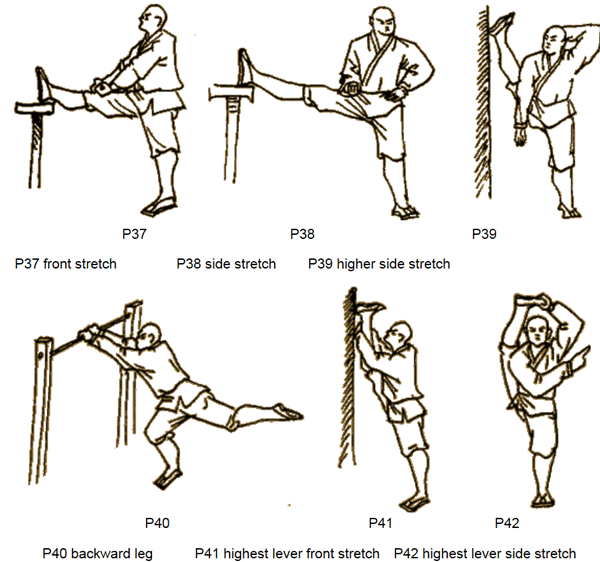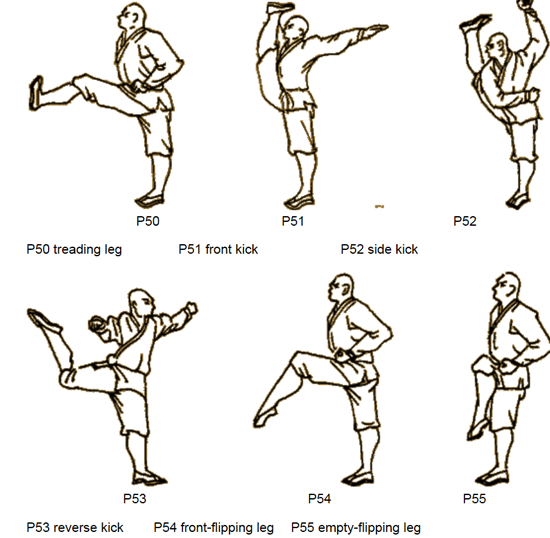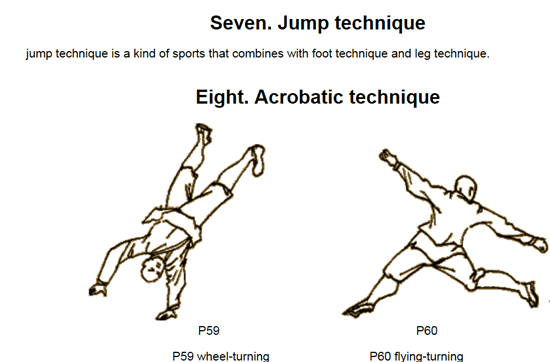 Nine- Training of Stance Kungfu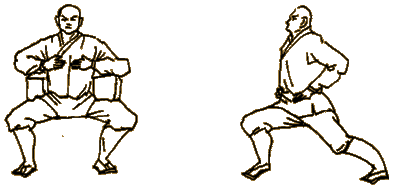 P61              P62
P61 horse-riding stance   P62 bow stance 
Either way, selecting a reputable institution for shaolin kung fu is particularly important. While there are many benefits of China shaolin kung fu, selecting an academy with qualified trainers is important. Before enrolling, ensure they are qualified and have years of experience in kung fu training and see students' reviews. Understandably, this art will require many skills and getting into the right academy guarantees you the best training available. After completion of the training, the relevant certificates will be awarded. Those who advance to higher levels may also receive a degree from the Association of Martial Arts in China.