The following introductions can get you a better understanding and appreciation of Yantai. Yantai has won the titles of National Civilized city and Chinese Best Leisure cities consecutively.The city appeals to people loved here ,only only its beautiful sea,the mountain,the good climate of four seasons,but also in people's hearts.The province we located is Shandong

.

The beautiful and historic city of Enchanting Yantai
History of Yantai: Yantai literally means "smoky tower". In the ancient Ming Dynasty, locals used wolf dung to light fires to warn the whole village to pay attention to approaching enemy,then,city was named Yantai by people. In ancient times,Emperor Qin ShiHung,Han wu Emperor and Tang Taizong all left historical traces in Yantai.

Yantai train station and Yantai coastal square
Yantai is the starting places in the Silk Road on the sea with profound history. In November 1983, the region became important city by Chinese government. Since then, it has worked its way into becoming a modernized economic center in Shandong Province,and was names International Vine and Wine city by OIV in 1987.In the early 1990 year,it was "the Black Horse in Northern China" (to mean fast Economic development ) by foreign media.The city is coastal and tourist city with numerous places of interest,such as,Penglai Pavilion,the Wonderland on Earth,Kunyu mountain,a Well-known Taoism Mountains,and thousands miles of COASTLINE.

The coastal line view of Yantai city
Many people say that Yantai changes every day,and becoming more modern and fascinating.A city full of love,a city hard to leave. Yantai, enchanced by history and culture,will always be a "bright pearl" along the Bohai Sea and a place worthy to visit.

Horse island of Yantai (take 30 mins by car to reach there)

To the north of us, around 10 kilometers away from the school, there is a famous island called "Horse-raising Island". It is recorded in Chinese history that the first Chinese Emperor, Qin Shihuang, raised horses on this island. There is now a horse race held there every year.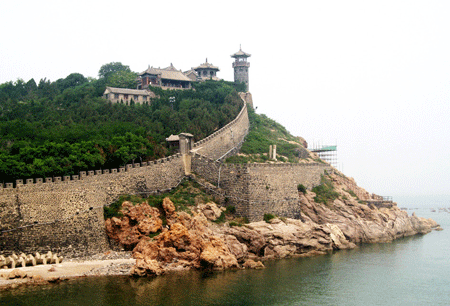 "Penglai Ge"is a nationally popular place of interest. The legend of the Eight Celestial Beings has been passed down from generation to generation.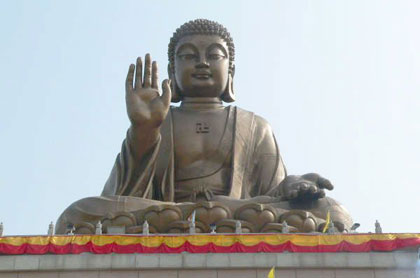 The Big Buddha Statue (Nan Shan Buddha)
In Longkou of Yantai stands a spectacular Buddha Statue, just one of the palms can hold more than 40 people.There are many temples in Yantai. Zhulin, Longwang and Wuran Temple are the three most famous.

Yantai city is abundant in apples,which is very sweet and nutritious and delicious,that is quite famous in China even in the world.The students can buy very easily from apple seller in the road very near the school.

The Apple garden in Kunyu mountain. Sweet Yantai Apple in Kunyu mountain.
Yantai city is abundant in big Cherry,very delicious fruit,that is famous in China.Students can buy fresh cherry from sellers in the road near academy during the cherry season from April to June.

Yantai big cherry in Kunyu mountain.

Sweet Yantai big cherry garden in Kunyu mountain.

The coastal Yantai city we located is abundant in various sea food,such as:Crab,Lobster,Prawn,Shrimp,ribbon fish,clam,sea cucumber,kelp,Salmon ,Grass carp fish,Squid,Octopus,Abalone,Sea urchin,Whelk,and so on,which is very nutritious and delicious,that is quite famous in China,and usually exports to foreign countries.

Yantai sea food often exports to foreign countries.